The MUVE Friend Card is a nominal pass for our membership program, you can purchase in all the ticket offices of permanent collections part of the Civic Museums of Venice.
The MUVE Friend Card is valid for 1 year from the subscription date and has two price ranges: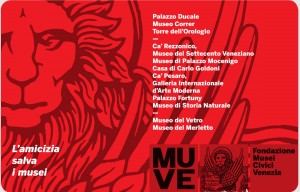 MUVE Friend Card
Red – Reduced 25 euros
for students under 26 years or teachers in service, for residents and people born in Venice
MUVE Friend Card
Blue – Standard 45 euros
BUY NOW ONLINE YOUR MUVE FRIEND CARD >>>
At the moment of purchase, it is requested to fill a Subscribtion Form, that can be found directly in the ticket office, or you can download it online.
This form is needed in order to collect useful information for newsletter, invitations and other communications reserved to MUVE Friends to be sent.
DOWNLOAD THE SUBSCRIPTION FORM (PDF 119 KB) >>>
The MUVE Friend Card is a nominal pass, so museum personnel at the entrance could request an ID card to verify the validity.
For more information, write to muvecard@fmcvenezia.it