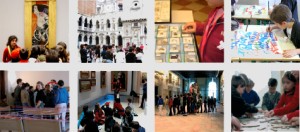 Educational services of the Fondazione Musei Civici di Venezia are articulated in many activities dedicated to schools and individuals.
Educational activities are currently mainly held in Italian language, but there are several activities directed also to non-Italian-speaking visitors.
ACTIVITIES FOR SCHOOLS IN THE CIVIC MUSEUMS OF VENICE >>>
INDIVIDUAL ACTIVITIES IN THE CIVIC MUSEUMS OF VENICE >>>
_
LET'S KEEP IN TOUCH!
Educational Services will keep you informed
We have created a special mailing list for teachers, so they are kept up-to-date about the educational and cultural initiatives offered by our office.
If you want to receive these emails, all you have to do is fill in the following form, and send it:
- via fax to n. +39 041 2700371
- via email to education@fmcvenezia.it
NEWSLETTER EDU MUVE FORM – FOR TEACHERS (PDF 71 KB) >>>
Privacy (art. 13 D.Lgs. 196/03)
The personal information requested is essential to provide the service demanded (booking events, conferences, visits, information) in all its phases (from booking to enrolment management and payment) and are treated with automatic and/or manuals procedures. It is also anonymous in case it is needed for statistics to analyse the composition of museum audience. If this information is incomplete, it will not be possible to forward your request, or, otherwise, it could jeopardize a timely fulfilment of that. Data are processed by people in charge of the treatment, who have been nominated specifically for this purpose. This information will not be given to third parties and will only be saved for the time necessary for the service in question, after which it will be deleted. The owner of this processing is Fondazione Musei Civici di Venezia, Venezia San Marco no. 52, in the person of the President pro-tempore. Subjects are protected by the law of paragraph 7, D.Lgs. 196/2003, towards the person in charge of this processing, also by writing to the email address education@fmcvenezia.it
To allow a valid communication channel with visitors and users in general, the Fondazione Musei Civici di Venezia has implemented an e-newsletter about events and activities organized by the Educational Services. Anyone wishing to receive such updates can express their preference in the forms provided on the website or sent upon completion of bookings. This preference can be changed at any time free of charge, writing to contacts listed above.
For any reporting, comment or suggestion you can send an email to education@fmcvenezia.it