A TALE OF COSTUMES
Espace Louis Vuitton Venice introduces
A Tale of Costumes
10th November 2015 – 3rd April 2016
_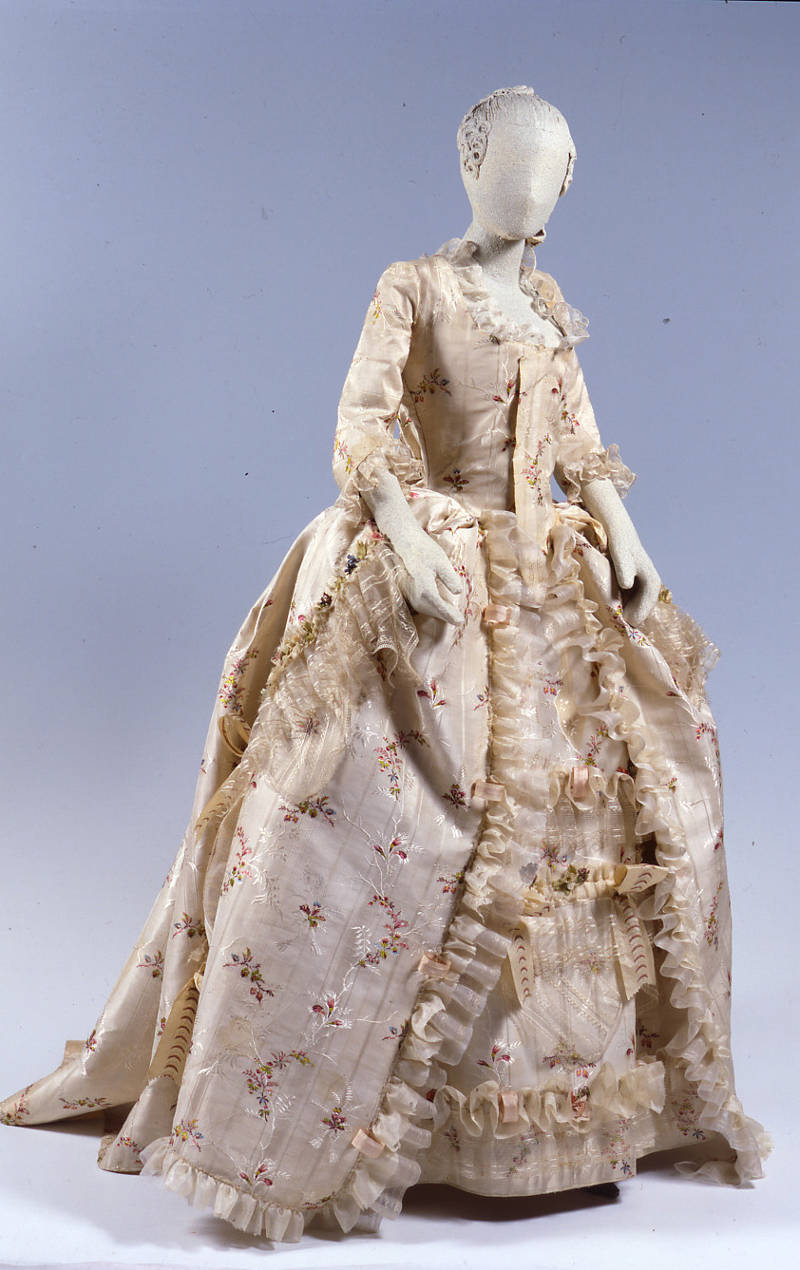 On November the 10th, Espace Louis Vuitton Venice will inaugurate the exhibition A Tale of Costumes, a dialogue between different generations and views which – through the use of three outfits – tells stories of different times, places and people in the setting of the Serenissima.
A silent but yet intense conversation, Espace Louis Vuitton Venice will host three outfits for this exhibition: Andrienne (1770 – 1780), a woman's dress from the end of the eighteenth century; a garment woven with paper by Chinese artist Movana Chen and a dress designed and manufactured by students of Rome's Experimental Centre for Cinematography, supervised by Italian costumes designer Maurizio Millenotti (twice Academy Award nominee for best costumes).
Andrienne features a typical eighteenth century line, with loose back, probably deriving from the late eighteenth century sur-coat shape. Considered informal, it loses this characteristic starting from the seventies, thanks to its introduction at Court by Queen Marie Antoinette. Students of Rome's Experimental Centre for Cinematography have drawn inspiration from this garment, they were requested to reinterpret the eighteenth century robe according to their own vision and creativity. Something they carried out with the precious help of costume designer Maurizio Millenotti, allowing the creation of a modern, wearable garment, not just a simple copy of the original.
The interlaced words of Movana Chen animate the conversation, placing the accent on the dialogue. For her knitted dresses, the artist uses very long paper threads coming from various books lent by friends or strangers. She destroys the books so that, re-composing them into a new shape, they can tell a new story, soaked of the lives of people who have written, read or owned the destroyed work, enclosing distant stories, ancient and recent ones within the same garment.
The beauty of the silhouettes that captures the visitors' glance immediately, hides secret messages in the weft of the threads. Wearability now becomes secondary: the garments tell us of remote places, real and imaginary ones, taking her tale up to Venice. A Tale of Costumes is the sixth exhibition presented at Espace Louis Vuitton Venice, in collaboration with MUVE – Venice Civic Museums Foundation, also made possible thanks to the meticulous restoration works -supported by Louis Vuitton -of the Eighteenth century dress Andrienne, part of the Palazzo Mocenigo collection.
---
MOVANA CHEN
Based in Hong Kong, the artist studied fashion design at London's College of Fashion. She started working on her "Magazine dresses" project as from April 2004, playing a game of books' dismembering and reconstruction through knitting. Her works are a multi-discipline mix of fashion, performance, installations and sculptures presented in worldwide exhibitions dedicated to her.
MAURIZIO MILLENOTTI
Born in Reggiolo on 12th June 1944 he is an Italian Costumes Designer, twice nominee at the Academy Awards for best scene costumes (in Othello, 1986 and Hamlet, 1990, both directed by Franco Zeffirelli). Among his most recent works, "L'Attesa", directed by Piero Messina and presented at the 72nd Venice Film Festival.
CHIARA SQUARCINA
Chiara Squarcina works for the Fondazione Musei Civici di Venezia (MUVE) since 1996. She covers the role of Area 2 Manager as well as Manager of Palazzo Mocenigo Centro Studi di Storia del Tessuto (Studies Centre for the History of Fabrics and Costumes), the Museum of Lace in Burano and the Museum of Glass in Murano.
FONDAZIONE MUSEI CIVICI DI VENEZIA (MUVE) 
Fondazione Musei Civici di Venezia (MUVE) – participatory foundation with sole founding member in the Municipality of Venice –manages, promotes and enhances (by specific mission) the complex system of Venice Civic Museums, one of the most important in Europe, since 2008: 11 museums with their rich collections (from Palazzo Ducale to the Correr Museum, the International Gallery of Modern Art of Ca' Pesaro, Palazzo Fortuny, the Glass Museum of Murano and Ca' Rezzonico – Museum of Venetian eighteenth century), 5 specialist libraries, the photographs archive, a fully equipped external deposit that will soon also become a restoration workshop (Vega Stock). An innovative institution in the scenario of Cultural heritage in Italy. An accurate and passionate local sponsorship and cultural actions project has led Louis Vuitton to supporting the restoration of works coming from all the collections of the museums managed by the foundation, every year. Once restored, the works are given back to the public and exhibited in their respective museum venues. On this occasion, Louis Vuitton is proud to have restored the eighteenth century garment Andrienne, stored within Palazzo Mocenigo.
---
Information
A Tale of Costumes Exhibition
From 10th November to 31st March2016
Espace Louis Vuitton Venezia
Calle del Ridotto 1353, 30124 Venice
Opening hours
Mondays to Saturdays 10am to 7.30pm
On Sundays 10am to 7pm