NOTICE: from Monday 16 to Saturday 21 October 2017, the Ship Pavilion will be closed to the public for internal needs of the Italian Navy.
We apologize for the inconvenience.


SHIPS PAVILION*
The Oars Workshops
The building, now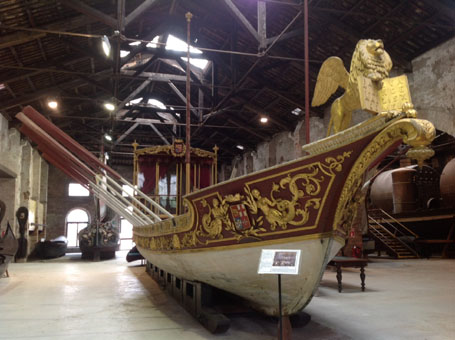 housing a detached section of the Venice Naval Historical Museum collection of historic ships, consists of three serially arranged units, and of a fourth one, of similar size, orthogonal to the first ones. The building was built in the mid-sixteenth Century as an oars workshop and storage facility. Shortly after its completion in 1577, it was temporarily adapted to house the Great Council, the main government body of the city, following the disastrous fire that had destroyed much of the Palazzo Ducale, making it useless for a long time. The rooms basically retained their function of specialized workshop for the production
of oars, supported by a blacksmith workshop and storage spaces, until the mid-nineteenth Century. Following the reorganization of the Arsenal started after 1866, when Venice was annexed to the Kingdom of Italy, the premises were used as storehouses and workshops by the Military Engineers. In this period the roofing was restored, with the introduction of an interesting bidirectional system of iron ties which integrated the wooden roof trusses.
Since 1980, the area of the oars workshops has been known by the name of "Ships
Pavilion". It houses vessels of great historical importance as an annex of the museum.
_
Location
SHIPS PAVILION / PADIGLIONE DELLE NAVI
Rio della Tana Castello 2162 c, Venice (close to the Arsenal bridge)
Vaporetto ACTV: Line 1, 4.1, 4.2 stop Arsenale
_
Opening Hours
Open every day from 8.45 am to 5 pm (last admission 4.30 pm) *
_
Tickets
Full price : 5.00 euro
Reduced : 3.50 euro
children aged from 6 to 14; students aged from 15 to 25; coordinators (max. 2) for groups of kids or students; citizens over 65; holders of Muve Friend Card
Residents: 1.55 euro
Free entrance: staff of the Ministry of Defence; disabled people; children under 6 years old; ANMI; ICOM members
_

Info and bookings
Call center: +39 041 2424