ANNA SKIBSKA. Metamorphoses of forms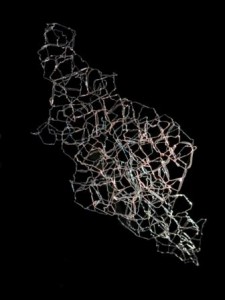 From May 31st to December 1st 2013
Museo del Vetro Murano
Polish artist Anna Skibska likes to reveal the metamorphoses of forms, using glassmaking techniques in a masterly fashion.
Using a small acetylene torch, she 'stretches' glass rods, creating slender and transparent threads, that are then folded and joined to create ethereal, perfectly balanced sculptures. Embroidering the 'incorporeal' mass of the glass with the same ability as a sculptor – who removes rather than adds, digs rather than fills – the artist manages to create imperceptible compositions of glass, "geometric spiders' webs" on which light plays, crystallising like frost on a winter's morning, revealing the Euclidean nature of the frozen water crystals.
A play between the visible and invisible that leads to the essenceabsence of gravity and the lightness of her compositions.
-
For more information: museovetro.visitmuve.it >>>