MARIA GRAZIA ROSIN. Fractal lace
Work in progress
From May 9th to July 27th, 2014
Museo del Merletto, Burano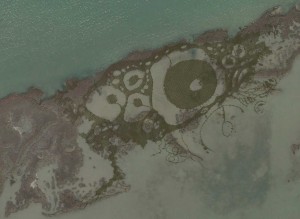 The haunting landscape of the "barene", the characteristic squared-off areas characterising the Venetian lagoon, has inspired artist Maria Grazia Rosin,a Venetian by adoption who has seen an interesting similarity between their grid-like patternand specific naturalistic expression and the skilled lacework typicalof Burano.
Fractal lace is a work-in progress installation appearing as a texture with fractal motifs, or forms that develop with constant graphic characters towards infinity, creating ever-new volumes.
This environmental art project was presented at the Beyond mystical landscape exhibition (June – August 2013) on the island and mudflats to the west of San Francesco del Deserto (curated by Simonetta Gorreri, art director of ARTLIFE for the World), as part of the institutional initiatives of the MiBACT and promoted by the Architecture and contemporary arts service of the Direzione Generale PaBAAC, on the occasion of the 55th Venice art Biennale of 2013.
_
More infos of the exhibition on museomerletto.visitmuve.com