If you buy now your MUVE FRIEND CARD, you could take part in the next exclusive events reserved to MUVE Friend Card holders and receive invitiations to all the exhibition openings!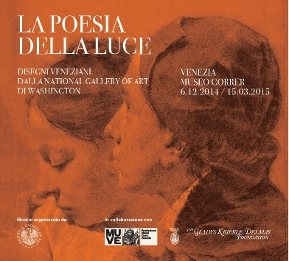 FEBRUARY SPECIAL: "THE POETRY OF LIGHT" AT MUSEO CORRER
Tuesday, Febrary 10, 2015 at 3.30 pm
Museo Correr,Venice
In January MUVE Friend Card makes you the star of the new exclusive event dedicated to the exhibition "The Poetry of Light. Venetian Drawings from the National Gallery of Art in Washington". You'll be able to admire more than 130 extraordinary drawings from one of the most important collections in the world, whose authors range from Mantegna, Bellini, Giorgione and Titian to Veronese, Tiepolo, Piazzetta, Canaletto and many others, with the guidance of Dr. Alberto Craievich , Scientific Coordinator of the project.
The guided tour, exclusively reserved for MUVE Friend Card owners (up to 25 people), will be held on Tuesday, February 10, 2015 at 3:30 pm. Reservations are required mandatory. The special reduced fee of EUR 7.00 will be applied for all MUVE Friend Card holders (meeting point at Museo Correr Ticket  Office).
Please notify your participation by Thursday, February 5th, via email at muvecard@fmcvenezia.it.
See you there!
……………………………………………….
Also, you can enter for free to the temporary exhibitions part of museums itineraries:
From April, 2013
WUNDERKAMMER
Museo Correr, Venice
From June 15th, 2014 to May 4th, 2015
PORCELAIN FROM THE COLLECTION OF MARINO NANI MOCENIGO
Ca' Rezzonico – Museo del Settecento Veneziano, Venice 
From October 25 2014 to May 5, 2015
PER IL BENE DELLA PACE. Il lungo cammino verso l'Europa dalla pace di Bologna alla Dichiarazione dei diritti dell'uomo (1530-1789)
Palazzo Ducale, Sala dello Scrutinio
From January, 31 to March, 29, 2015
PARADOXES: A SERIES OF UNFORESEEABLE ENCOUNTERS BETWEEN CLASSIC AND CONTEMPORARY ART. Candida Höfer Les Bourgeois de Calais in Venice
Ca' Pesaro, Venezia
From February 9th to May 30th, 2015
LUCIANO VISTOSI .Sculptor
Murano, Glass Museum
From May 9, 2014,  to April 30, 2015
MARIA GRAZIA ROSIN. Fractal lace
Museo del Merletto, Burano
_
Also, you can visit the following exhibition with reduced ticket (euro 8 ):
From October, 4th, 2014, to March, 8, 2015
THE DIVINE MARCHESA. Art and life of Luisa Casata from  Belle Epoque to spree years
Palazzo Fortuny, Venezia
_
Also, you can visit the following exhibition of with reduced special ticket (eur 7):
From December 6th 2014 to March 15th 2015
THE POETRY OF LIGHT. Venetian drawings from the National Gallery of Art, Washington
Museo Correr, Venice
_
With your MUVE Friend Card, friendship is your pass for culture!