CARNIVAL 2013. Activities in the Musei Civici di Venezia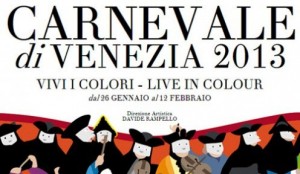 As part of the CARNIVAL OF VENICE 2013 – "Vivi i colori. Live in colour"
CA' PESARO – INTERNATIONAL GALLERY OF MODERN ART

Thursday 7th, Friday 8th, Saturday 9th, Sunday 10th and Tuesday 12th
6:00 pm
LIVE SHOW "All the colours of the world"
Theatrical adaptation of the novel of the venetian writer Giovanni Montanaro, Campiello Prize finalist in 2012.
For more information: capesaro.visitmuve.it >>>
BOOK NOW "ALL THE COLOURS OF THE WORLD" >>>
-
CA' REZZONICO – 18TH CENTURY VENICE MUSEUM
MUSIC "Sounds and colours from the Baroque to New Baroque"
A musical journey that creates a single point of intersection between the music, the art of the Baroque masterpieces kept in Ca' Rezzonico and the Carnival. Performed by Quadrivium Ensemble.
For more information: carezzonico.visitmuve.it >>>
BOOK NOW "SOUNDS AND COLOURS FROM BAROQUE" >>>
-
MUSEUM OF NATURAL HISTORY
Sunday 10th February at 6.30 pm, 8 pm and 9.30 pm
Tuesday 12th February at 5:30 pm, 7 pm and 8.30 pm
LIVE SHOW "Erbolato, or dissertation by a charlatan on nature and science"
Traveling theater show loosely based on the text by Ludovico Ariosto, adapted and performed by Alessandro Bressanello.
For more information: msn.visitmuve.it >>>
-
CASA DI CARLO GOLDONI
Monday 11th and 12th February 2013
5:00pm, 6:00pm and 7:00pm
LIVE SHOW "Goldoni and his women"
A show in which Eleonora Fuser analyzes some of the most important roles of the incredible drama career of Carlo Goldoni.
For more information: carlogoldoni.visitmuve.it >>>
BOOK NOW "GOLDONI AND HIS WOMEN" >>>
-
For more information about the Carnival of Venice 2013: www.carnevale.venezia.it >>>