At the Musei Civici di Venezia, Bookshops by Skira are waiting for you with books, guides and merchandising.
At the Doge's Palace, at the Museo Correr, Ca' Rezzonico, Ca' Pesaro, Palazzo Fortuny, Palazzo Mocenigo, at the House of Carlo Goldoni, at the Natural History Museum, at the Glass Museum and at the Lace Museum, the bookshops offer a wide range of products by Skira, but also a detailed selection of works by Italian and international publishers, with particular reference to genius loci and thematic characteristics of the Museum. In the bookshop you can also purchase catalogues of temporary exhibitions organized in the other Civic Museums of Venice.
BUY SKIRA PUBLICATIONS ONLINE >>>
Also, you mustn't miss merchandising products of the Civic Museums of Venice by Skira: MUVE Line in two versions "Art MUVE's Your Brain" and "MUVE Acqua Alta Edition", and the Ducale Line, whose products will give you the chance to take a souvenir of your visit to the Civic Museums of Venice back home with you. In addition, you could find merchandising products of the Civic Museums of Venice and in particular the MUVE Special Edition: precious hand-made handbags and accessories, made ​​in Italy exclusively for the Fondazione Musei Civici di Venezia.
BUY ONLINE THE MUVE SPECIAL EDITION >>>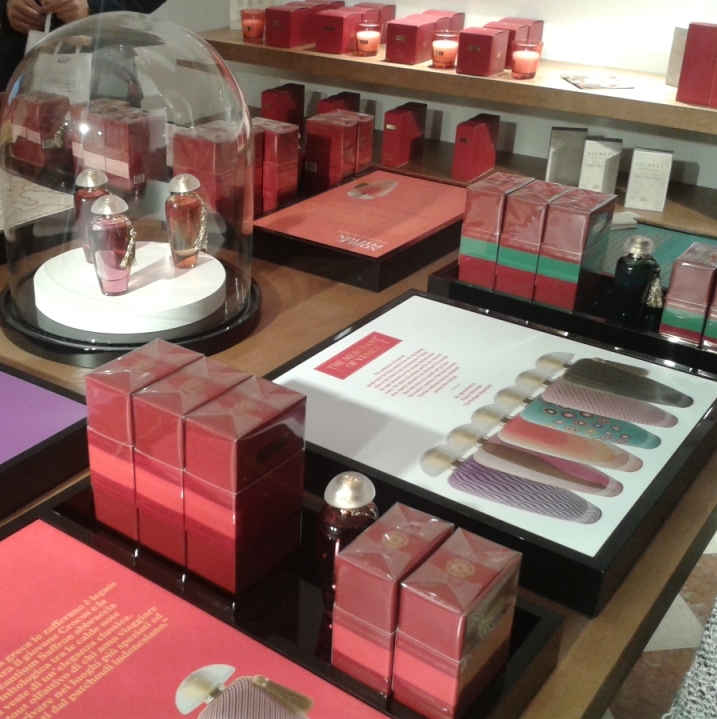 With a new layout, the bookshop of Palazzo Mocenigo reopens in 2013, after the restyling of the museum. A bookshop by Skira and a museum shop by Mavive, with the exclusive line The Merchant of Venice, are waiting for you.

At the Doge's Palace, Museo Correr, Ca' Rezzonico – Museum of the 18th century Venice and Ca' Pesaro – International Gallery of Modern Art, you can visit the Cafés AIREST. Food & Retail. Made in Italy CULTO.CAFFÈ E CIOCCOLATO.
A place where flavors are only surpassed by the aroma, where one can choose between carefully selected coffee mixtures and a rich offer of pastries and sweet delights. Typical cold cuts, regional cheeses and tasty appetizers are offered in combination with the most prestigious wines. Infinite goodness, in a place of irresistible temptations.
The cafes in the Civic Museums of Venice are welcoming environments where you can enjoy the aroma of a real Italian espresso, appreciate a glass of delicate wine, eat delicious buns, explore delicious and rich Mediterranean dishes and fine Viennese pastries whilst enjoying a pleasant break in one of the most representative places of the city.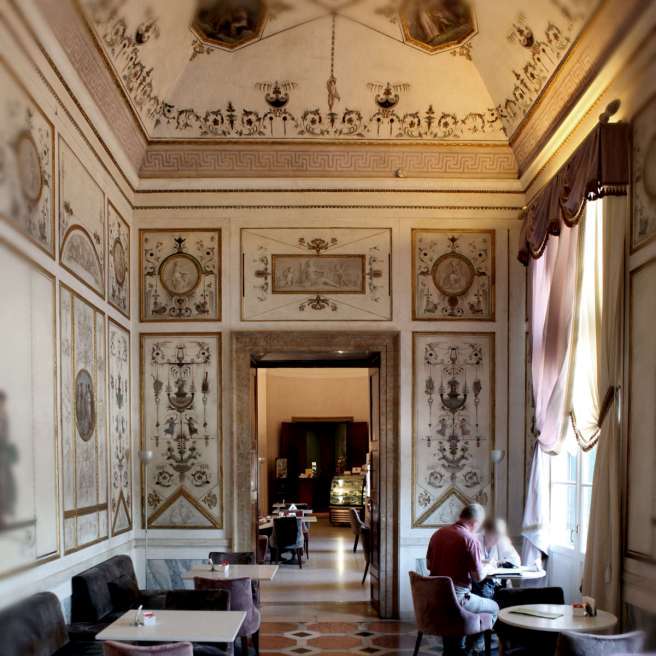 Opened in Spring 2013 the new café in the Museo Correr, overlooking one of the most spectacular views of Venice on St. Mark's Square, is now an ideal place to meet people.
Together with the cafeteria of the Museo Correr, the cafeteria of the International Gallery of Modern Art is open also to non-visitors. In the entrance hall on the ground floor of Ca 'Pesaro, the design-cafe offers a splendid view over the Grand Canal.